CULT STATUS
Cult Status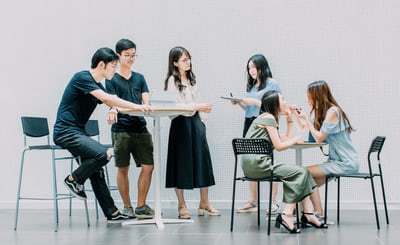 I recently read a review of a book called Cult Status: how to build a business that that people adore. Its author is Tim Duggan, a journalist and co-founder of a digital company called Junkee Media.  It is about modern millennial entrepreneurs and what drives and motivates them. The point is that these types of business personalities are not simply motivated by turning a profit. They want to make a difference. Such individuals and companies did exist in the past. But now the new breed of entrepreneur 'bakes' these ideals into their companies from the outset rather than grafting them in afterwards. For boomer companies it may have been a nice thing to do. For these millennials making a difference becomes an imperative. Such young entrepreneurs gather around them a community of people who are similarly motivated.

Such people are passionate. They are committed to a cause and there is an energy and a youthful vitality that drives them. Another descriptor is Impact. How is what they are doing going to change the world and make it a better place? The reason for this emphasis is that the millennials have grown up in a very different world to people a generation or two generations ago. Culture has shifted, seemingly overnight. Ideas and viewpoints that were incomprehensible only five or ten years ago are not merely mainstream, but are now  reinforced , disseminated and even enforced on social media. Such values not only shape the entrepreneurs but also the generation in which they are embedded.

I believe that this emphasis has great implications not merely for youth ministry, but also for appealing to young people to be generous and building a culture of generosity in that cohort. In a church however, these ideas should play out with a distinctly Christian focus. When I was growing up in my Methodist home church over 50 years ago, I didn't hear too much about the gospel of Jesus. The evangelistic fervour of John Wesley and George Whitfield had largely abated.  I did, however, develop a very strong impression that being a Christian involved believing in God and avoiding promiscuity and alcohol and living a moral life. There was a distinct holiness flavour about this environment for which I am very grateful as I know it stopped me progressing down stupid and sinful pathways.

But I wasn't challenged to make an impact or to be part of a dynamic movement to change the world. And it was only later, in my early twenties that someone challenged me to follow Christ.
This book, Cult Status, says to me that if you want to speak meaningfully to millennials, give them a massive and dynamic challenge. Challenge them to give their lives totally to Christ. Challenge them to a life of holy living, a life worthy of the gospel. And challenge them with a vision to help change the world by preaching and the spreading of the gospel which transforms lives binds up the broken hearted and sets the captive free, in their own homes, in their local town and in the world beyond. Show them how the gospel of Christ crucified and raised makes an impact personally and in society.

Wonderfully, the cause of the gospel has earthly significance. People's lives can be transformed immeasurably here and now. But the gospel also has an eternal signifance as people are looking and longing for a heavenly inheritance. A gospel cause also ensures this millennial passion gets channelled in the right direction. Some of today's causes are noble and worthwhile but I suspect others will be shown to be shallow and misguided with the passing of time. The plumb line of the gospel will allow us to discern the gold from the dross.

Finally, as the book suggests, many young millennials are setting up businesses, to make a profit and make an impact. Ministers need to challenge such young business identities to be generous and direct at least some of their resources to a cause that is truly out of this world. And as I reflect on these words, the former Methodist in me kicks in because it all seems very similar to the  way Wesley and  Whitefield inspired people two hundred and fifty years ago.