PURCHASE IN BULK TO SAVE FOR YOUR CHURCH
The best reason for buying the book in bulk is not just that it is cheaper. The real reason is that reading with other leaders puts everyone on the same page. This allows discussion, and debate that permits misunderstandings to be addressed. It is then much easier to introduce a possibly contentious subject into church life.
BUY BOOKS NOW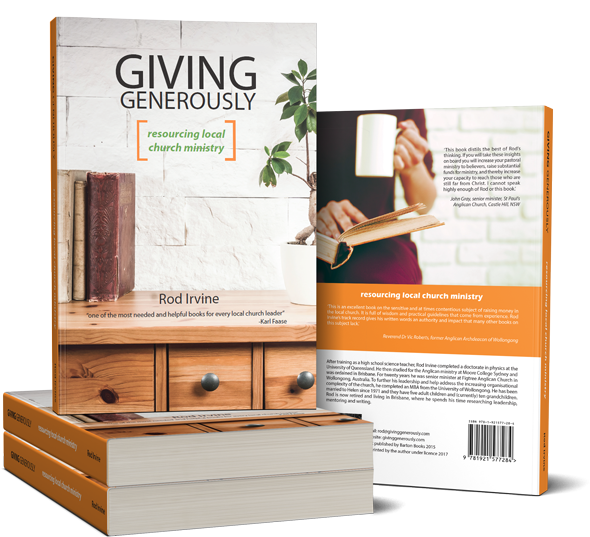 RESOURCING LOCAL CHURCH MINISTRY
Many great churches do wonderful work of care, outreach and mission but lack the funds to resource them properly. This book is a practical guide for ministers and church leaders for raising the money needed for ministry while creating a positive, united congregation.
LEARN MORE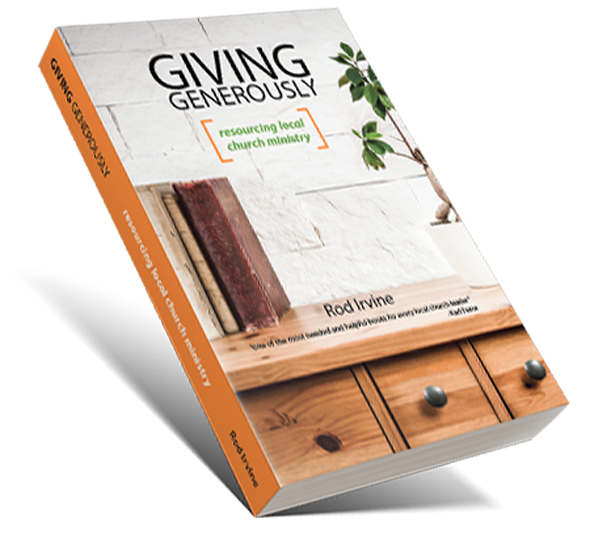 READ THE BOOK
 You can't judge a book by its cover so please have a look inside. The first chapter lays down the four foundational principles that govern wise, godly, raising of money in your church. Once you have grasped the four principles and are able to apply them, you are on your way to creating a well-resourced generous congregation.

ABOUT THE AUTHOR
 Rod Irvine is a retired Anglican clergyman who spent 20 years as Rector of a wonderful Anglican church at Figtree in Wollongong. When he went there he had very little idea of how to lead a parish ministry and had to learn on the job. How to raise resources and encourage generous giving was one of many things he needed to learn. This book is about that journey.

BUY THE BOOK
 This book is about Raising Resources for Local Church Ministry. But it contains much more because raising money involves leadership, vision, prayer and healthy ministry. If you are a local church minister or elder who desires your church to be healthy and fruitful, this book is for you. It contains a wealth of material that will help your church be one where the congregation gives generously and loves doing it.

READ ARTICLES
 This section contains a range of articles and tips about raising resources and leading ministry in the local church . I have been privileged to give a number of seminars on the topic and am asked many questions about putting the ideas into practice. I use this section to answer questions, to emphasise ideas from the book and to engage with new material. In talking with others I am constantly learning and wish to share that information.
about the book

This book is called 'Giving Generously: Resourcing Local Church Ministry. The title combines two important features. The first is generosity. This is a constant theme in the bible. God commands his people to use money wisely, to avoid money's temptations and to use wealth to promote ministry and bless others. Thus a book on giving money in churches needs deep biblical roots. This book seeks to rest on those foundations.

 Secondly, churches actually need to raise money for ministry. This involves asking the congregation for support. This can be a daunting prospect. Both ministers and congregations hope the funding problem will go away. Congregations hope that ministers ask for money sensitively, generally only when necessary. But most ministers are not trained for resourcing the local church. Ministers hope that the treasurer will do it. However treasurers can be good at keeping the accounts but don't want to be 'fund raisers'.

 So in practice nobody takes much responsibility. Churches limp along until there is a financial crisis and then have a desperation appeal or cut costs or sell valuable assets. The aim of this book is to show that raising resources for ministry is not fundraising. Rather it is an exciting opportunity to grow disciples by raising faith, casting vision and creating vital, healthy ministry.  
BUY NOW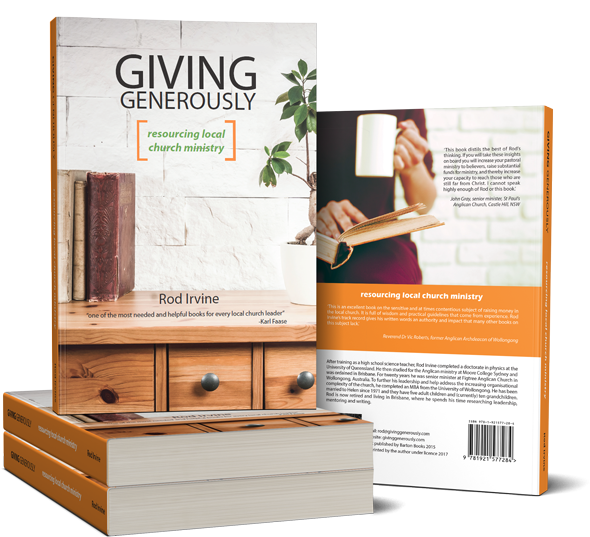 TESTIMONIALS
I

 

have finally gotten to reading your book and I have found it so helpful.  It crystallizes so many thoughts and explains matters I have yet to address for our church. 
We are doing a series on Generosity and Stewardship in June/July and my prep for that series is so much clearer now. Thank you. 
We have talked about money and budgets, but not taught about generosity!    It is amazing how long you can go in ministry and still be working out such fundamental stuff.   
I am blessed to have someone working in fundraising to help me plan the process for the series.   However I am most thankful for now being able to grasp the task and the message so much more clearly, for the good of the church and the promotion of the Gospel.
David Lanham, Anglican Rector of Frenchs Forest Church, NSW
Rod Irvine has been a source of wisdom to me for over twenty years. His ability to theologically reflect on church leadership, including the whole subject of money, has been a Godsend. As a result, Christians in the churches where I have served have been able to extricate themselves from debt and become increasingly generous. This, in turn, has meant those churches, including the one I currently serve in, have been able to significantly increase their annual income, eliminate debt, engage in capital campaigns and increase their capacity for mission support. My story can be told by other senior ministers in the Anglican world. This book distils the best of Rod's thinking. If you will take these insights on board you will increase your pastoral ministry to believers, raise substantial funds for ministry, and thereby increase your capacity to reach those who are still far from Christ. I cannot speak highly enough of Rod or this book.
John Gray, senior minister, St Paul's Anglican Church, Castle Hill, NSW
Rod Irvine has written one of the most needed and helpful books for every local church leader. In his time at Figtree Anglican Church, Rod increased weekly giving exponentially as well as resourcing their building program, which created a fantastic new auditorium and extensions to the church. In this book Rod gives biblical foundations, theological reflections, practical suggestions and the wisdom accumulated in many years of exceptional local church leadership. This is a book every church leader should read and digest.
Karl Faase, senior pastor, Gymea Baptist Church, NSW; CEO, Olive Tree Media
While initially I expressed support for Rod to implement the program outlined in this book in our church, my support, selfishly, was only half-hearted. In one sense, arguing against the principles he explains here is like arguing against motherhood. But for me this was more than an issue of principles—it affected my finances! So began another chapter in my spiritual growth, trusting God as I contributed far more than common sense dictated and certainly a lot more than I was used to giving. I haven't yet arrived, but I am further on that journey. Many others in our church had a similar experience over the years. Almost needless to say, the secondary benefit was seeing ministries flourish and resources developed. We have Rod to thank for leading us in this very important issue. It was his clear teaching, integrity, passion and personal example that helped us make our money "dance for God".
Rob Grimmett , former rector's warden, Figtree Anglican Church, NSW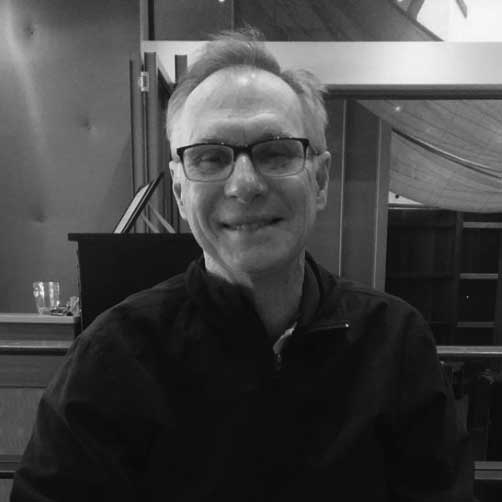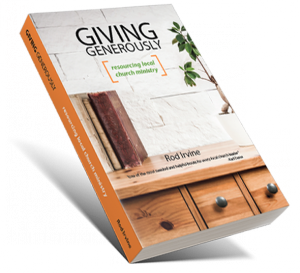 READ A SAMPLE
Raising money for ministry isn't about 'fund raising', cake stalls lamington drives or fetes. It is about raising peoples' faith and hope in Christ, casting an engaging vision for your church and asking confidently and graciously. Almost as soon as I became a minister of a church I was confronted with the need to resource the ministry but I had no idea what to do. After many years I stumbled across helpful ideas. Have a look inside to get a taste. .