The Importance of Vision
June 13, 2017
Inline Text
Rod Irvine
In 2014 my wife Helen and I did a trip to England and one of the places we visited was Glastonbury. No we were not there for the famous rock festival. We wanted to check out the church of St John the Baptist dating from the 15th century and where Helen's great-great grandparents were married in 1854. Close by were the ruins of the famous Glastonbury monastery. As we drove out of town we passed the spectacular green conical hill of Glastonbury Tor, adorned by a medieval tower. The tor is a geographical feature, 158 metres in height, that that shows evidence of Neolithic human activity and legend associates it with King Arthur.
As interesting as all these were to a person of antiquarian tendencies, it was the sign that said 'Tithe Barn' on the road driving east that grabbed my attention. So turning off past the aptly named Abbot Way, we found the medieval structure.

At that time I was in the process of writing my book 'Giving Generously' and I knew I would have to tackle the topic of tithing at some stage. I was not particularly looking forward to writing a tithing chapter for a number of reasons. First I knew the topic was controversial, with passionate defenders and detractors. Secondly I had preached on the topic over a number of years and thought I had a reasonable understanding of the issue. However I was somewhat nervous that in undergoing the more in-depth analysis that a book would demand might reveal gaping flaws in my original understanding, invalidating my previous sermons: an embarrassment at the very least. So anything about tithing, particularly if it was unusual or obscure, grabbed my attention.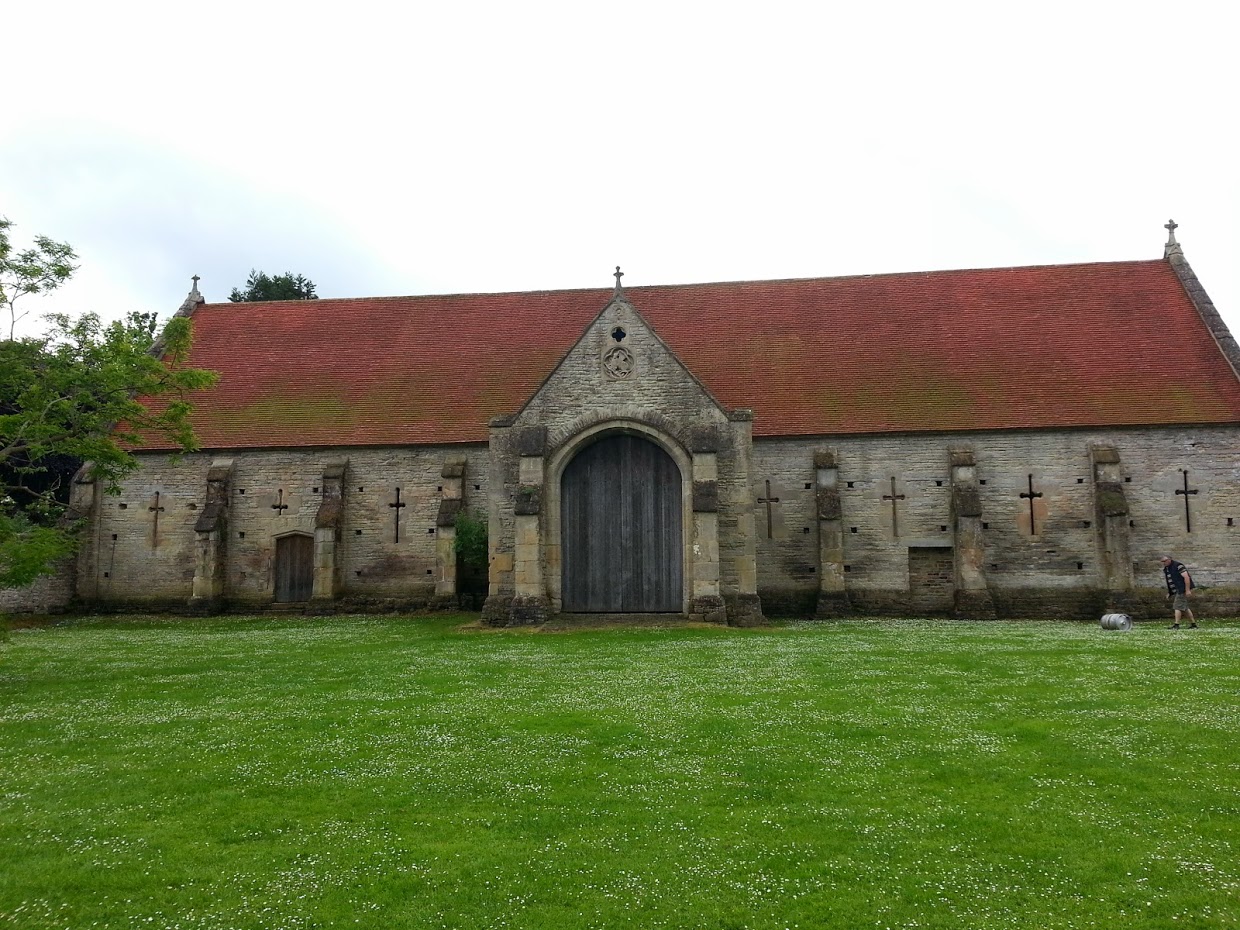 I discovered that this barn at the village of Pilton is one of four surviving tithe barns whose tithes of agricultural produce serviced Glastonbury Abbey. It had suffered fire damage in the 1960s and was recently restored with the aid of a heritage grant. The abbots of Glastonbury ceased receiving the tithe in 1539 when the monastery was dissolved  and the last abbot, the 78 year old Richard Whiting, was gruesomely hung, drawn and quartered on Glastonbury Tor.
Now in my book I do not advocate the imposition by the secular authorities of a mandatory tithe on all the citizens. However my research did mellow me a little as I gained a new perspective.
As the Christian faith spread across Europe in the first millennium, kings such as Athelstan in England, who took their faith seriously looked for models on which to base their kingship. They found it scriptures such as 1 and 2 Kings in the Old Testament. They also were keen to banish pagan religion from their realm and encourage and support a strong church with monasteries that would be centres of learning, alms giving, prayer and evangelism. They made laws mandating the tithe to support these institutions. Now history teaches that many monasteries became lax, corrupt, and centres of privilege making them easy targets for Henry VIII's rapacious dissolution. Glastonbury at least under the pious Richard Whiting was not one of them.
So pondering tithe barns I can see some interesting sermon illustrations emerging, but I can't see the tithe barn or any twenty first century incarnation making a comeback and wouldn't want to see a return to a state mandated tithe. The downsides are too great. However I do want to acknowledge the impulse that lay behind them; the desire of a ruler who loved God, supported the church and wanted to assist it with its kingdom work by providing the financial resources to equip it. Would that our secular leaders today be moved by the same desire.
On a personal note, I sent the picture to my family.  One of my sons noticed, in the right of the image, a man rolling a beer keg into the barn. Suddenly the idea gained a little more traction but not for reasons of theology!!!!