The Importance of Vision
September 24, 2018
Inline Text
Rod Irvine
Some years ago I read a wonderful little book called Jesus and Money by Ben Witherington III. He commended John Wesley's famous sermon The Use of Money and reproduced it in his book.
I pricked my ears up because I was sent by my non-church going mother to the local Methodist Sunday School. One of the heroes of the faith I learnt about, was the famous C18th evangelist John Wesley. As an adult I subsequently read of the wonderful ministry of Wesley and his brother Charles and their equally famous fellow worker George Whitfield in the evangelical movement of the C 18th. . I grew up singing the hymns of their revival.


So when I visited the UK a couple of years ago, my itinerary took me from York to Cambridge I determined to detour off the motorway and visit the shrine of Methodism, the Epworth rectory where their father Samuel had been rector and where they had been raised by their saintly mother Susanna. It was here that 6 year old John had a marvellous escape from the fire that ravaged the house. 

The volunteer guide was nowhere to be seen but the local Methodist minister appeared from a meeting and took us over the house which was full of fascinating Methodist history. However, by far the stand-out for me was a full size likeness of the great evangelist that formerly was on display in Madame Tussauds wax museum in London. What staggered me was how small John Wesley was in real life (see photo). I remember someone had called him a 'dapper little don', but until I stood next to him I hadn't quite realized just what that meant.
The thought that went through my mind was, that relative to Wesley I was a physical giant but a spiritual pigmy, whereas he may have been physically challenged but was certainly a spiritual giant.
Later I visited the Epworth Anglican parish church where Wesley had been briefly a curate for his father.  Later during the evangelical revival Wesley returned to Epworth where he was refused permission to preach within the church by the new Rector. Thus he stood on his father's tomb and preached powerfully to the crowd outside the church. He is reported as saying that he did more good for the kingdom on that occasion in 20 minutes than he had done in two years as his father's assistant.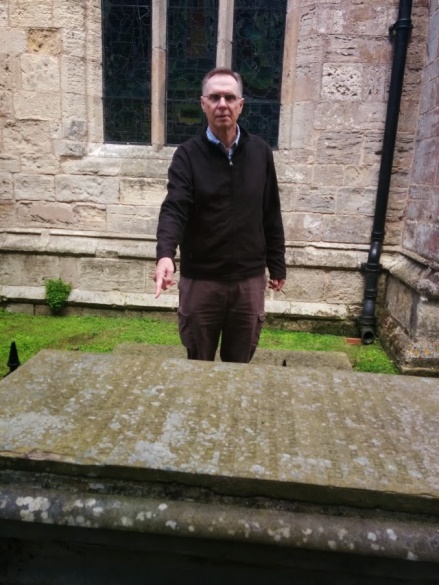 The tomb is still outside the church and surprizingly with no identifying sign apart from the inscription. I felt I was gazing on hallowed ground (see photo) and thought it would be inappropriate to stand on the tomb myself.
Wesley was a wonderful evangelist but was also concerned to help his converts develop in Christian maturity. As I note in my book Giving Generously, there is little that assists Christian maturity more than a proper understanding  of money.
In his famous sermon The Use of Money, John Wesley bases his message on Luke 16:9.
I tell you, use worldly wealth to gain friends for yourselves, so that when it is gone, you will be welcomed into eternal dwellings.
He asked the question, given that money is not evil in itself, what is the appropriate and wise way to use it. His message is in three parts.
1 Earn all you can: but in a way that is honorable.
2 Save all you can. Don't waste it.
3 Give all you can: remembering that you are a steward of God's blessing.
It is a wonderful message and while it was preached well over two hundred years ago in another place and another age, the biblical truths it enshrines speak just as clearly today. And with the magic of the internet you can find it with one click on the link below. I heartily commend it.
https://www.umcmission.org/Find-Resources/John-Wesley-Sermons/Sermon-50-The-Use-of-Money
Buy the Book
Giving Generously
https://givinggenerously.com/buy-the-book-2/